Professional Construction Management Services
About our professional construction management (PMC) services for industries, individuals and investors
We are a team of thorough engineering professionals serving the construction industry for over 20 years. We particularly help factories and industrial establishments to manage their construction projects. We also do assist construction and real-estate companies on infrastructure and development projects; similarly, we also guide individual clients on residential construction projects.
First, About Projects without PMC Consultants
To begin with, let us say you are either a business owner looking to build a factory building/warehouse or an individual planning to build a house or a space to rent out or extend a portion of the building or make some landscaping. You are not directly involved in construction, by profession. Almost always, your first step is to network among friends and other contacts to find a suitable contractor.  If you are knowledgeable to some extent on construction and if you have time to monitor the construction, you may seek a labour contractor who will supply required labour and equipment and, you will purchase required materials yourself. If you do not wish to soil your hands and time in the construction, you may seek a turnkey contractor, who will build and handover the entire project to you.
Also called, Design-Build contracts, an overview of turnkey is here:
DESIGN-BUILD OR TURNKEY SYSTEM
The labour contractor method is slightly more complicated than the turnkey arrangement and is as below:
OWNER-BUILD OR LABOUR CONTRACT SYSTEM
The technical name of this system is Owner-build System.
Now, What is not perfect without PMC Consultants
To manage our construction, we should understand that the challenges are far from the perfection and simplicity that is apparent in the aforesaid discussion. We will first examine the likely shortcomings on the turnkey method:
Firstly, different turnkey contractors make their commercial offer based on different drawings and specifications; comparing them is indeed comparing apples with oranges.
Secondly, as the owner's requirements are not benchmarked before bidding, invariably the preliminary drawings provided by the contractor goes for a toss, during construction. The project cost increases as subsequent change-orders are at best, negotiated variations and no more, competitive bidding.
Third, quality assurance of project is a great deal of trust between the owner and contractor, as design and supervision is vested with the contractor.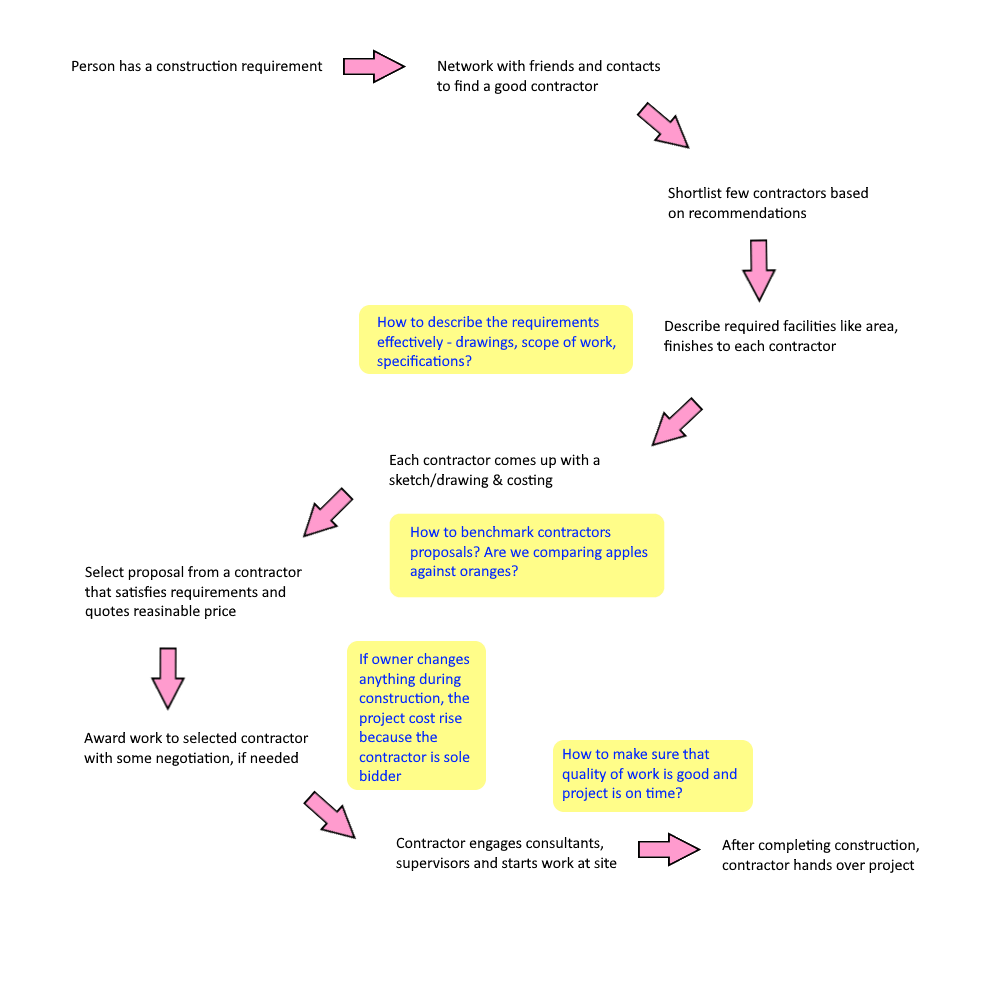 CHALLENGES IN TURNKEY SYSTEM
The main challenges of drawings and bid-evaluation are to some extent mitigated in the owner-build method. But it may give rise to fresh challenges, such as coordination between designers and contractors, as also coordination between contractors and material suppliers. These coordination failures, ultimately lead to blame-games. The disadvantages regarding change orders and quality supervision remains, in this case also.
CHALLENGES IN LABOUR CONTRACTS
How can PMC Consultants help?
In the PMC system, the construction manager (1) provides preliminary estimates to the owner (2) advises the pros and cons of different methods of construction (3) prepares tender documents that describe project requirements as a benchmark (4) minimizes change orders during construction (5) supervises construction and ensures quality and time schedules are achieved and (6) arbitrate disputes between owner and contractor in case of genuine scope creeps.
PMC SYSTEM
The most frequent complaint about PMC consultants in the industry is limiting their contribution merely to documentation and e-mail communications, and emerging as problem-recorders. True project consultants, with an insight and understanding of operations in the construction industry, are expected to act as facilitators and problem-solvers.
So the simplest denomination of PMC consultant is to provide a necessary system, method and manpower for prospective project stake-holders – so that the owners need not invest permanently into these facilities.
Also see an introduction to Traditional & Professional methods of Project Organization and outline of project documentation in PMC services.