Isolated Sloped Footing with Neck Column
Parametric BOQ calculator for isolated sloped footings, excavation, binding and neck column
Isolated Rectangular Sloped Footings with Rectangular Neck Column
We present a worksheet to generate bill of quantities for isolated sloped footings with neck columns and associated works, with a minimum input about the footing and column geometry. The bill of quantities (BOQ) would cover excavation, blinding, reinforcement, shuttering, waterproofing and backfilling works. This is an ordinary excel worksheet where grey coloured cells are permitted for editing – you can change the values in these cells. accordingly, the BOQ values will be recalculated. After making necessary changes in values, you can select the cells (entire range or BOQ range) and copy them to an Excel sheet on your desktop for further calculations.
Following assumptions are used in the calculations:
Lean concrete, sand blinding and waterproof membrane is applied on the entire base of the excavation
Top-level of neck column is the same as ground level
Where shorter side of the column is more than 250mm, main reinforcement bars are uniformly distributed on all sides
Main rebars for column shall be cut in 6m length
Footing side cover shall be 75mm
Footing bottom bars shall be bent up at edges by 75mm
All column main bars with spacing wider than 75mm shall be provided with links or clips.
Length of each side of column links shall not be more than 48 x bar diameters
Please let us know if any of the above assumptions do not fit your requirement.
Geometric Description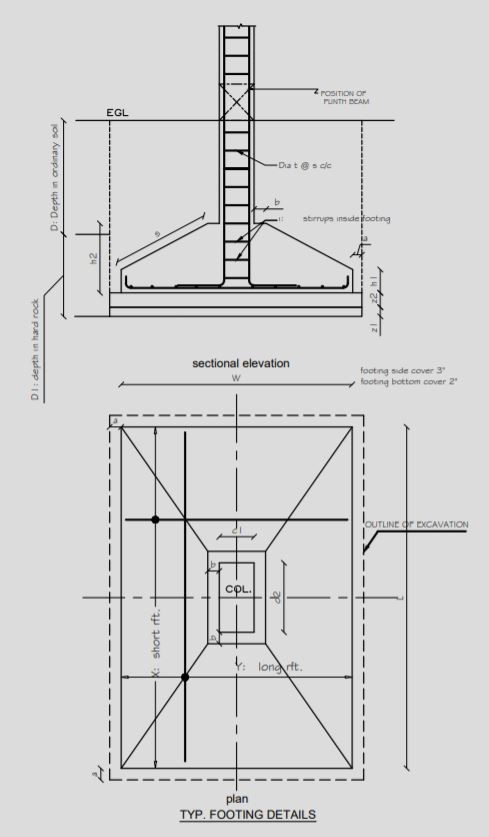 About Parametric Quantity Survey
The concept of parametric quantity survey evolved as part of our development efforts for our construction management software Baevr. The idea is to generate the Bill of Quantities of items associated with common components of works. We will frequently publish worksheets for parametric quantity surveys for different items of works.
The original Excel worksheets can be provided to interested users on request. If you find any bugs in calculations, please report to support@adeptalgorithms.com. Users are requested to validate the calculations with one or more samples, before putting the sheet to commercial use.
The construction industry is very vast. Although our assumptions may be valid for most of the common cases, there are particular cases that are not covered in these sheets. We welcome you to offer your suggestions on work elements not covered here or on a better set of assumptions in calculations.