Civil, Structural & Architectural Engineering Services
About our ambitious venture to produce accurate, appropriate, analytical civil engineering decisions
Getting Accurate, Appropriate & Analytical
---
Moto: Ex Totum Ad Partem (Latin, means "From Whole to Part")
Mission: Analytical, Accurate and Appropriate Engineering Decisions
Scope: Civil, Structural & Architectural (CSA) Engineering for projects
---
Every project has its characteristic geography, scale, technology, economics and environmental interaction. Appropriate engineering is integral to address each such unique characteristic. It requires a willingness to unlearn the tendency to fit every project into the framework of earlier experiences. On the other hand, we focus on finding creative totem solution with a fresh-and-open mind and then attend to each detail with our sharp experience.
An engineering solution that is simple or precise is indeed the fastest, cheapest and finest solution. Engineering precision is not just about numerical tolerance, but about the accuracy of the information, that of assumptions, of details and execution.  Our organizational culture is to seek precision in our operations – in the collection of data, processing and presentation. We rely on authentic sources, stick to Codes, follow sound academic principles and extensively utilize automation.
Our values extend to professional and analytic designs. Professionalism is produced by engineers with academic specialization and specific training for the task. More than that, we want our engineering designs to be scientifically reasoned, commercially reasonable and reliable against uncertainties. We ensure this using our elaborate yet quick procedures – so that our solutions remain analytic for engineering principles and cost control.
---
"Every project is a unique challenge. We are open to innovations – exploring out-of-the-box of earlier experiences. And we enable you to make measured decisions with thoroughly transparent engineering."
---
 Our strength is a core team of qualified engineers with extensive interdisciplinary and multifaceted experience in infrastructure projects for over 20 years. Our key personnel details are listed here. Our organizational structure facilitates expedient adaptation of modern technology and permits professional associations with eminent engineers and peers.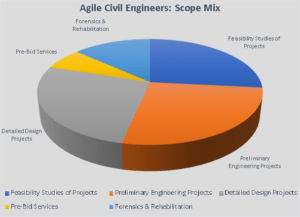 You can find a further list of our projects and clientele here.