Not just MIS reporting tool, but a discipline for the entire organization
The Structural Features of Baevr
BAEVR is a tailor-made software for the multifaceted management tasks in construction projects. It is not just about automating the construction organization but about exercising a much-needed discipline in the industry.
As a management information system (MIS), Baevr addresses the very requirements of construction projects, with an emphasis on cost control.
Uniform flow of information and integrated administration across the organization and project-to-project are corollary to above.
"Baevr can be integrated into any ERP system, already being used in your firm, with minimal customization"
Baevr Suite is based on a broader genre or approach of construction management, that we call CPMC. CPMC is an acronym for Construction, Planning, Monitoring and Control. We will present the structural features of CPMC for a better understanding of how Baevr works.
---
Projects with baselines and variation history
Products and services of different groups, replaceable types and brands with price history, probable variations and rigorous inventory/accounting attributes
Work activities and method statements of different groups built-up using material, labour and equipment contributions
---
BOQ (WBS) of simple, complex activities in the project with detailed measurements, automatic costing with change orders and history
Realtime scheduling (RTS) – macro/micro-planning with predefined work tracking parameter
Contract agreement with work assignment, scope of work, quotation evaluation, costing and payment terms.
---
Daily Reporting System (DRS) from the site for work progress, material transactions, workforce deployment, equipment log, site accounts and communications/transmits.
Procurement plan, BOM & Intents, tracing to supply & invoicing and reconciliation
Periodic Stage Inspection (PSI) based on BOQ and Contract Invoices (M-Books & Pay Orders)
---
Complete Earned Value Analysis (EVM S-Curve)
Schedule variance analysis and delay claim bases
Cost variance analysis, resource reconciliation and cash flow variance
---
Features addressed by Baevr compared to other tools
Following table shows various functions for management of construction projects and a list of common software used in the industry. Green indicates that the software tool caters the function and Yellow indicates that software caters partially.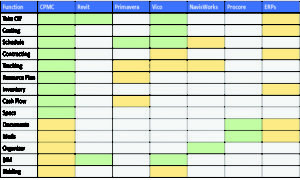 Foregoing discussion may compellingly assert that Baevr CPMC addresses the MIS requirements of construction. Ten reasons why you should adopt Baevr on your project is elaborated in another blog post. Module-wise features of Baevr and its unique approach is presented here. Drop-in through our Contact Us section, for further queries.