Rigid Tile Flooring & Wall Lining
Methods of setting, bedding and pointing ceramic, vitrified, stone and cement tiles
Rigid Tiles
Popular rigid tiles are manufactured using clays with varying sand content, glazed by heat and salt treatment. Vitrified tiles, being most common, are made out of superior clay with sizeable sand content (as much as 60%) whereas ceramic tiles are made of clays with relatively low sand content. Quality and extent of vitrification is also determinant on the appearance and performance of the tile.
Other brittle tiles include * flagstone tiles such as granite and marble cut to tile sizes (less than 2'x2′), * cementitious tiles used for external and paver applications, and * glass tiles for special applications.
Rigid tiles are laid on a bed of cementitious mortar, using grout/adhesives while the mortar bed is still green. After setting of the tiles in the bed, the joints between tiles are pointed with pigments and/or sealants. Edges may be polished where required, subsequent to pointing. On walls, where plastering bed is already cured, the bed is scarified and a bond coat of fresh mortar is provided.
---
Rigid tiles are conventionally laid on a thick bed of cementitious mortar, using grout/adhesives while the mortar bed is still green [Bonded Thickset method]
---
Bedding
In rigid flooring, a bedding between the underlying floor (which may be a concrete or wooden floor, masonry or drywall or metal stud frame) and flooring, that is of following types: Floating Thickset, Bonded Thickset, Medium-Bed, Thin-set and  Underlayment.
Bonded thickset bed comprises of cement mortar about 15-20mm thick. It is the commonest form of bedding, because it irons out pertinent undulations in the subfloor. Besides, wherever required, thickset serves to form draining slopes and accommodates

expanded metal lath

or

welded wire fabric

reinforcement (commonly in linings) and

hydronic piping

. It is important to use non-sagging cement mortar grades in wall lining applications.
Floating thickset comprises of a cleavage membrane or slip sheet, such as Asphalt felt or 0.1mm polyethylene, beneath the cement mortar thickset. The membrane separates any movement in the substrate, due to deflections and settlements, from the thickset.
Underlayment panels such as cementitious backer panels or fibre cement boards are suitable on surfaces without substantial undulations or non-cementitious surfaces, to achieve bonding surface, draining slopes or encapsulating electric

radiant floor heating

systems. Underlayment panels are available in thickness of 6.4, 12.7, 15.9mm. Gypsum or glass mat backer boards are also used as underlayment in wall lining applications.
Thin-set (about 5mm) and Medium-set (about 10-12mm) are useful on surfaces with minimal level variations, scarified pre-plastered walls, existing flooring and already cured floor beds, as a thickset or underlayment may be avoided. Thin-sets comprises of a blend of cement, very fine sandy material and a water retention compound, that reduces water requirement for complete hydration, commercially packaged as dry-set mortar. Improved dimensional stability, against substrate movements, can be achieved by Latex-modified Dry-set mortar. Integral latex-modified dry-set mortars may contain ethylene vinyl acetate or acrylic; alternately acrylic resins and styrene-butadiene rubber are used as an additive in dry-set mortar. Thin-set compositions are also used in slightly thicker wet-set applications, as bond coat.
On existing flooring surfaces, sometimes tiles are directly grouted without any thickset or thin-set. If necessary a cleavage membrane or slip sheet may be provided to prevent movement of new flooring from any possible movement of the old substrate.
Tile Setting
Tiles are fixed by pressing against the thickset or thin-set using either grout or tile setting adhesives. Grouts are standard cement grout with/without latex additives. Integral latex-modified grouts are also widely used. Adhesives used for tile setting include water-cleanable tile setting epoxy resins or chemical resistant furan adhesive or organic adhesives. Furan adhesives are manufactured from derivatives of furfuryl alcohol and are not suitable on concrete surfaces. Spacing between tiles (typically 2-4mm) is achieved by temporary tile spacers. Tiles are cut to match room sizes, using hand-held or bench cutters. Care should be exercised to ensure the correct blending of colour, texture and pattern. Incorrect placement, such as overturned designs, is a common error despite correct blending.
| | |
| --- | --- |
| Temporary Tile Spacers | Pointing Gun |
For wall lining and countertop flooring, it is necessary to trim the re-entrant intersection between two perpendicular (or other non-parallel) surfaces such that unglazed side of the tile is not exposed. Simplest method of trimming is to use pre-formed PVC or ceramic trims or metal strips. In opulent projects, rear-side of tile is bevelled using hand-held grinder or machined in a lathe, so that joints can be made edge-on-edge. In stone tile applications, exposed edges may be polished or tiles may be bevelled from inside. On stone tile countertops, stone edges may be moulded and/or provided with cornice thresholds. Moulding is also possible with full-body vitrified tiles. Moulding and polishing works are Day 3 activities that is after completion of pointing.
---
Initial selection is to be confirmed after sample inspection and always verified with additional samples during execution. Incorrect placement, such as overturned designs, is a common error despite correct blending of colour, texture and pattern.
---
Where the tile is not provided with a factory coating or a manufacturers proprietary coating, the simplest protection to tiles consists of pouring Plaster of Paris roughly over tile. The coat is expected to remain in place until all finishing jobs are completed to prevent scratching and staining of the tiles. The coating may be removed by water wash thereafter. In sophisticated jobs, petroleum paraffin wax coats are applied and are removed using a neutral tile cleaner. The tile should preferably be protected from traffic for about 7 days. Covering the tiles with non-staining Kraft paper is also a common protection measure.
Tile Pointing
Pointing of tile joints shall be done latest by day after laying, to provide deposition of dust in the joints. Typically this is done using a pointing gun. Some pointing applications are accompanied by transparent elastomeric sealing with One-part Mildew-resistant Silicon sealant or Multi-part Pourable Urethane sealant.
Management & Administration
Environmental hazards: Environmental regulations limit the content/emission of organic compounds that have high vapour pressure at room temperature among building materials. Tiles and pigments are preferably tested for the Volatile Organic Content (VOC).
Shop Drawings: Location and pattern of each type of tile, should be shown along with width, location and type of joints. It is advisable to prepare these working drawings before procurement of tiles/stones.
Initial selection samples for tile, trims, edge strips: Clients or architects make initial selection from samples produced before then or examined at the showroom. The specification may be designated by brand name and design number in case of tiles, trims and edge strips. Stone tiles are specified by limiting approved source.
Verification samples: During execution, the contractors are required to produce and display samples, to verify that the same may be matching with initial selection. Arrangement of tiles, with joints and pointing, may also be displayed in groups of minimum four tiles. In many high-end projects, one unit may be finished as mock-up before commencing work on other units.
Maintenance supplies: Typically 3% of tiles, trims and pigments shall be ordered for maintenance and future replacement.
Storage: Tiles shall be stored on elevated surfaces, covered in original containers, seals unbroken.
---
It is preferable to prepare working drawings showing the location and pattern of each type of tile. Always keep 3% of tiles and pigment for future replacement.
---
Waterproofing & Crack Isolation
For applications in wet areas such as washrooms, swimming pools etc, waterproofing and crack isolation are important objectives of tile flooring. Methods of waterproofing and crack isolation are pretty similar, the most popular being water-proofing plaster coat with latex-modified cement mortar. In this method, draining slope is achieved with a base mortar bed, and a waterproofing plaster coat is applied over the base course. The waterproofing extends tucked into the walls and over the curbs. Latex additives are acrylic-resin or styrene-butadiene-rubber water emulsion, that replace water for hydration partially or fully. The tiles are set on a second mortar bed above the waterproofing course.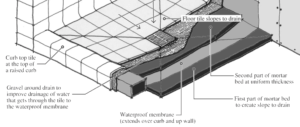 Application of latex-modified cement mortar is one type of fluid-applied membrane. Other fluid-applied methods include liquid-latex rubber or elastomeric polymer and liquid-applied urethane with tile-setting adhesive. Sometimes, fabric reinforcement is also applied along with fluid-applied membrane.
Alternately, off-the-shelf waterproofing and crack isolation membranes are also used for dry laying, as follows:
Non-plasticized, Chlorinated Polyethylene faced on both sides with non-woven polyester fabric; 0.76-mm nominal thickness.
Two layers of PVC sheet heat-fused together with non-woven polyester; 1.01-mm nominal thickness.

Polyethylene waterproofing

sheet faced on both sides with fleece webbing; 0.203-mm nominal thickness.
 Corrugated (dovetail-shaped) polyethylene with anchoring webbing on the underside; 4-mm nominal thickness (primarily for crack control).
Self-adhering Modified

Bituminous membrane

with fabric-reinforced facing; 1.01-mm nominal thickness.
Method Statement
List quality control tests to be performed
*List environmental hazards to be examined
*List shop drawings to be produced with approval authority
List method of initial selection
*List verification samples for single tile and group of tiles and mock-up plans
List storage arrangement of materials and placement of maintenance supplies
Tiles: {By Design [Ceramic]/[Porcelain]/[Vitrified]/[Flag Stone]/[Cementitious]/[Glass]}
Bedding: {By Design [Bonded thickset]/[Floating Thickset]/[Medium-Bed]/[Thin-set]/[Underlayment]}
*Thickset: {By Design [Cement Mortar Grade], [Thickness]}; {Methods: [Dot-and-Screed]/[Laser-Guided]}
 *Cleavage membrane: {By Design: [Asphalt felt]/[0.1mm polyethylene]; specify brand & make}
*[Thin-set]/[Medium-Set]: {By Design: [Dry-Set Mortar]/[Dry-Set Mortar with Additive]/[Integral latex Modified dry Set Mortar]; Thickness; Specify composition and brands}
*Underlayment: {By Design: [Cementitious Backer panels]/[Fibre Cement Boards]/[Gypsum Board]/[Glass mat backer board]; Thickness: 6.4/12.7/15.9 mm; Specify brand, make}
*Water-Proofing & Crack-control: {By Design: [Fluid-applied Membrane]/[Sheet Membrane]}
*Fluid-applied Membrane: {[Integral Latex-Modified Plaster]/[Cement Mortar with additive]/[Liquid-Bitumen]/[Liquid-Latex Rubber]/[Liquid-Urethane with Adhesive]; specify brands, composition and coats}
*Sheet Membrane: {[Chlorinated Polyethylene]/[Twin PVC sheet]/[Plain Polyethylene sheet]/[Corrugated Polyethylene]/[Fabric-reinforced Modified-Bituminous]}
Tile Setting: {[Grout]/[Adhesive]}
*Grout: {[Cement Grout]/[Cement Grout with additive]/[Integral latex modified grout]; Specify composition and brand}
*Adhesive: {[Epoxy Resin]/[Furan Adhesives]/[Organic Adhesive]; specify brand}
[Use temporary tile spacers]/[No spacing between tiles]
{Specify type of cutting tool and blade for tiles}
{Methods to ensure blending, colour, texture, pattern and to avoid incorrect placement}
*Edge Treatment: {By design: [Tile Trims]/[Metal strips]/[Hand Bevel]/[Machine bevel]/[Stone Edge Moulding]}
Pigment Mix: {By design: [White Cement]/[Cement]/[Resin] with/without Pigment}; {Placement and gun}
*Elastomeric Grout Sealer: {By design: [One-Part, Mildew-Resistant Silicone Sealant]/[Multipart, Pourable Urethane Sealant]}
Protection as: {[Factory coated]/[Petroleum Paraffin wax]/[Manufacturers proprietary coating]/[Plaster of Paris]}; {Cleaning with [Water]/[Neutral Tile Cleaner]}
Provisional traffic Control: {}
---
"The content presented above is the sole property of Adept Algorithms and shall not be reproduced in part or whole without prior permission"
---